amp sports lounge
Dream. Drink. Play...as if you'll live forever!
An LGBTQ/Straight Sports Lounge with Lots to Offer!
At AMP Sports Lounge, we aim to attract patrons with our casual and festive atmosphere. Everyone is welcome here! Our luscious & comfy Pink velvet benches, designed for AMP Sports Lounge, and neon lighted frames, produces a laid-back funky attitude. We are located centrally in Cat City on the "111 Cat Walk". Our location makes it easily accessible to the entire city, other friendly bars, restaurants and hotels.
Men & women will effortlessly find a comfortable place to hang out, drink and make new friends. Our friendly knowledgeable team players are always ready to fix you up your favorite cocktail or beer, plus, they're all good looking!
You can be yourself at AMP Sports Lounge. Join us for all of your favorite sports during the day and enjoy live music, DJ's or Karaoke during the evenings. Our Daily "AMP'd Up Hour" is Monday Through Friday 4PM to 6PM. $3 Wells, House Wine and Bud Light Drafts. Daily "AMPY Hour" happens every day of the week 6PM to 9PM $1.00 off all alcoholic beverages! We will feature all the big sports games on 7 huge TV screens and one "Big Screen" on the stage. Sports jerseys is encouraged but, street wear, leather wear, drag, who cares! Everyone is welcome at AMP Sports Lounge.
Co-Owners of AMP have been in the business for a combined 76 years! Co-Owners Paul & Antonio Lopez-Cochran have been raising awareness and funds for local charities since 2002. We believe in supporting the community and will have charity events soon. Let us know how we can help! Come on in!
AMP SPORTS LOUNGE
DREAM. DRINK. PLAY…AS IF YOU'LL LIVE FOREVER!
Phone
(760) 699-7090
Location
68-718 E Palm Canyon #201
Cathedral City, California 92234
Hours
Mon-Fri 4pM–2am
Sa-Su 10AM–2am
Sports, karaoke & special events
Feature 1
NFL Football! We have every game. Every Sunday! Every Monday! Every Thursday!
Feature 2
AMP Sports Lounge, Sports by day and fun by night. We have he best KJ in town and the most wide range of songs to choose from. Staff also likes to sing. Join us!
Feature 3
Well that was one hell of a contest! Congratulations to Angelique Va Gorgeous on being crowned as Cat City Royal Highness 2020!
The final event for the Royal Highness Season will be at AMP Sports Lounge. All the girls will perform as well as the newly crowned Queen!
The Queen will be awarded her sash and prizes! Awards will also be given to others in attendance. Some of the judges will also be in attendance!
The infamous "Wheel of Shade" will be on hand so be ready!
Free Pizza. And so much more. Save the date and don't be late!
Join us & Ms. Anita Treadmill, in celebrating a job well done for our first annual Cat City Drag Race and contestants who knocked out of the park! Cheers!
"After Sunday Brunch Singer Series"
10-06-19 (Please Note new hours)
Recently on Eye of Desert, 9/19/19 performing live - Channel 3! With her Conga player husband, Miguel& host Patrick Evans. She's recently began performing @ Stacy's. Leanna just finished a theater run of"Savannah Sipping Society".
We have Leanna Rodgers on the AMP Entertainment Stage on Sunday October 6, 2019. This is a show and talent you don't want to miss! Doors open at 4. Show begins a 5PM.

Please note the time is now 5pm-7pm."
10-20-19
34-year-old Ladaryl Smith has been singing for over 20 years. He's performed at the Date Festival, the McCallum Theatre, "Open Mic" competitions and much more.
He performs a variety of cover songs from R&B, Pop, Oldies and Disco tunes. From costumes and dance moves he's a natural entertainer! He enjoys watching people enjoy themselves and having a great time. Welcome to the AMP Entertainer Stage Ladaryl
10-27-19
AMP is proud to introduce Randell McGlasson to the "AMP Entertainment Stage" on Sunday, October 27, 2019. 5PM to 7PM. With "50 Shades of Randell". A show like you haven't experienced at AMP Sports Lounge. A dedicated husband of over 30 years and a father of two. Randell's stock of credentials includes the 2016 1rst Place Masters Champion at the "Talent Quest International Singing" Contest. The owner & operator of "Special Touch Photo/Video" and owner/host of "Ran Daryl's Private Resort in the Desert" BnB. This is a show you do not want to miss out on!
Sunday Singer Series October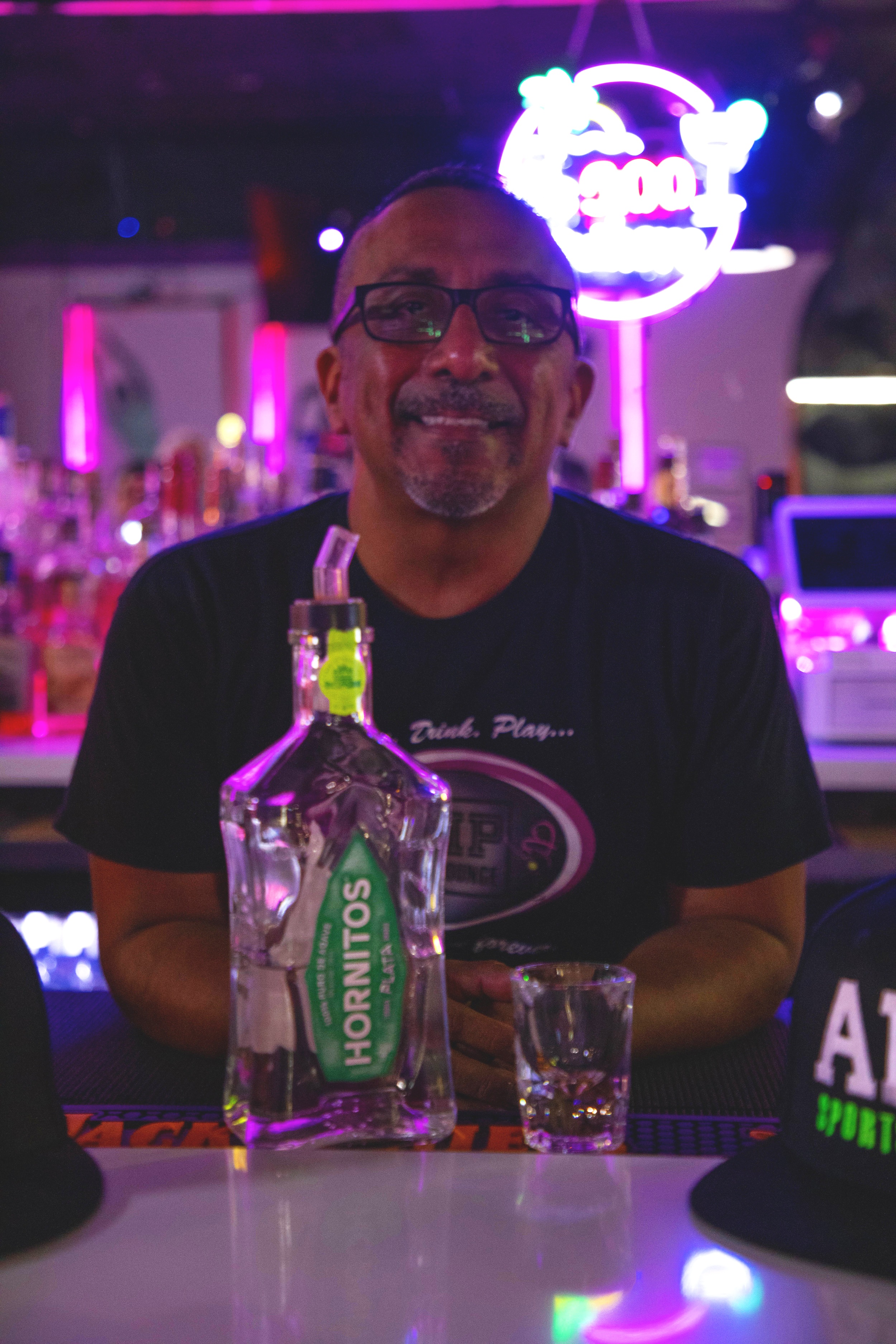 "The Boss" The 'A' in amp
"Frenchie" the 'm' in amp
"the Paul-lice" the 'p' in amp
Call (760) 699-7090 Or (760) 641-7068 from 1pm – 6pm daily
to make your reservations for your private party or events!